It's nearly Mother's Day, so what better to share than a list of prayers for mothers? In this case, it's a list of prayers specifically for the adoptive mom, but really, these prayers apply to any mom. I wrote "An Adoptive Mother's Prayers" to go along with my "10 Days of Adoption" series; I'm sharing here on my blog to make it easy to bookmark or pin, but you can download a pdf version if you prefer.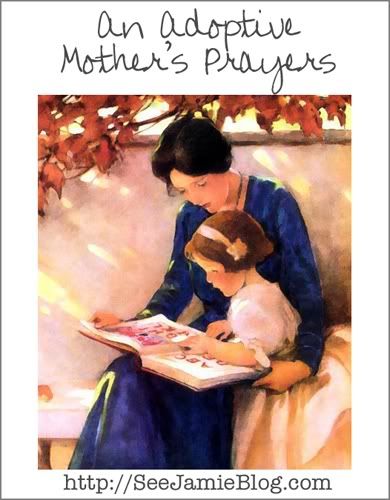 In the day to day challenges and frustrations of parenting, help me never lose sight of eternity; help me always keep my eyes on Jesus. (Hebrews 12:1-2)
Each morning, give me a word to sustain the weary; waken my ears to hear from you throughout each day. (Isaiah 50:4)
Help me remember, when I'm facing spiritual battles, that the One who is in me is greater than the one who is in the world. (1 John 4:4)
Bring my children word of Your unfailing love, and show them the way they should go. (Psalm 143:8)
Give me abounding love and keen insight as I parent these children. Show me what is of real eternal value, and through me, show my children what – and Who – Love is. (Philippians 1:9-10)
Father God, I pray that You sanctify my children with ever-increasing glory, and that you draw them into a deeper faith and experience with Jesus. (2 Corinthians 3:18)
Reveal more of Your nature and character to my children, and help them base their self-worth on YOU.
Clothe me in compassion, kindness, humility, meekness, patience, forgiveness, and above all, love. Let the peace of Jesus rule my heart and home, and let that be one of the many ways my children come to know and love you. (Colossians 3:12-15)
Despite whatever past circumstances have told them, show my children that they are Your workmanship, created in Jesus for good works, which You planned for them long ago. (Ephesians 2:10)
Give me a steadfast mind and keep me in perfect peace, with my mind on You, trusting You to do the work as I parent. (Isaiah 26:3)
Lord Jesus, help me abide in You daily. (John 15:5)
I pray that I would love, not merely in word or speech, but in deed and truth. Daily, and even moment by moment. (1 John 3:18)
Give me the grace to speak edifying, encouraging words. (1 Thessalonians 5:11)
Prepare my heart to pour out for the lives – and hearts and souls – of my children. (Lamentations 2:19)
Strengthen and guard my marriage, and help us to keep our marriage centered on You, our Rock, so that no storm may bring it down. (Matthew 7:25)
Father, show my children that You are mighty to save; that You rejoice and sing over them! (Zephaniah 3:17)
Make me quick to listen, eager to hear whatever is important to my children. Make me slow to anger, and cautious in choosing my words. (James 1:19-20)
Teach my children the beautiful truth that You have good plans for them, which include a future filled with hope. (Jeremiah 29:11)
See also:
- My Prayer Notebook
- Prayers for Parenting
- Prayers for My Husband
Get lifetime access to ALL Notebooking sets! (affiliate link)