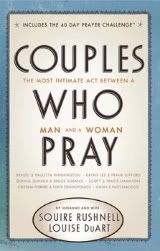 Interspersed throughout this book are personal testimonies from couples who have regular prayer times together, and the many ways it has improved their marriage. Studies are cited, too, about how much prayer affects marital happiness: a higher commitment level; better sex; and improved communication and feelings of intimacy.
I chose this book to review from BookSneeze (and received a free copy for doing so) because I love the idea of the 40-day prayer challenge for married couples. We pray together as a family at meal times and before bedtime, but outside of those times, Ken and I only pray together occasionally. My favorite take-away from Couples Who Pray is the list of forty Bible passages in the Appendix of the book; these would be wonderful for using in times of prayer together.
When I first received the book and started reading about all the Hollywood couples who contributed to it, I really expected it to be more of a "spiritual" find-your-own-path-to-heaven sort of thing. But I kept reading, and was very pleasantly surprised by how much Biblical content actually is in here. I think this would be a wonderful book to give to couples who may not be Christian, but would consider reading it to improve their marriage. Nothing of Biblical content is compromised here, in my opinion, but it's a little more of a soft-sell approach. However, the authors are a little more bold in pointing out Biblical verses worldly perspectives on sex, pornography, and forgiveness. They also assert that spiritual warfare is real, and that the devil is an enemy seeking to destroy marriage.
I also like the acronym for remembering Six Steps to a Happy Marriage:
L – laughter
A – appreciation of your spouse
U – understanding
G – God (at the center)
H – honoring one another
S – support, or being supportive
If you are new to prayer, new to marriage, or new to church, then I'd recommend this book. If you are already Christian and involved in a Bible-believing church, then you could probably skip this read — but it could be worthwhile if you need a little more incentive you need to actually start doing what you already know you should!
Wife, mom, grandma. Introvert who finds joy in good books, sunshine, and authentic conversation. Fitness enthusiast and personal trainer. Often seen with a steaming mug of tea in hand.