Gratitude {1226 – 1240}
"And when I give thanks for the seemingly microscopic, I make a place for God to grow within me." – Ann Voskamp
1226 – Menchie's date with Kathryn.
1227 – Learning to be a Fun Mama (more on this in another post).
1228 – Snuggles.
1229 – No incidents in a photography session with a big horse! I used to have horses, but working with a stallion and a client was a completely new experience for me!

1230 – Happy clients. 🙂
1231 – Smiley babies. (It's impossible not to smile back!)
1232 – Ken completed a huge two-year commitment with his CLC group, and came away from this with good friends, more Biblical knowledge, and more confidence in becoming the man God wants him to be.
1233 – Hearing the testimony of a lady who was once a Compassion child and how she was blessed by the support of the organization, and now sponsors her own Compassion child.

1234 – All the people who organize, plan, and host the annual Father-Daughter dance at our church.
1235 – Kathryn and Lindsey both feel loved and special in Ken's eyes. Not just because of the dance, but it certainly contributed to the feeling.
1236 – The relationship Ken has with both daughters, even though neither of them is his biologically.
1237 – Successfully making a few little projects with my sewing machine. (Mr. Singer and I are trying to become friends.)
1238 – Lindsey's willingness to talk to a young teen who wasn't sure whether or not he'd like to be adopted. He has the same caseworker she once had, and is the same age as when Lindsey joined our family.
1239 – Ken was able to do this boy's photos for his adoption recruitment info.
1240 – Lindsey's delight at earning a higher rank in JROTC.
Yes, I'm still counting… Join me?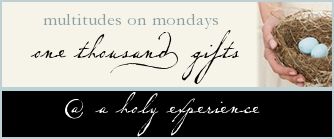 Wife, mom, J-ma. Introvert who enjoys good books, sunshine, and authentic conversation. Often seen with a steaming mug of tea in hand – unless it's lost yet again in the microwave. Read more »