I usually tame my thoughts before sharing them, because a peek into my brain is a scary thing. My family often tells me they'd be afraid to be inside my head.
A bit of my randomness:
1) I'm excited to be participating in the 10 Days Series, organized by iHomeschool Network. It's going to take me months to read all the posts by these great bloggers, but I'm eager to do so!
As for my part in the series, I'll be writing about [nearly] all the things you ever wanted to know about adoption! I've been talking to a bunch of other adoptive parents, so I can share much of their experiences, too. I would surely appreciate your help in spreading the word about this adoption series, which begins next Monday! This is where the majority of my brain power is right now.
2) Long Hair vs Short Hair. I like my hair long, but only if it's past my shoulders and long enough to do different fun things with it. And get it in a proper ponytail or braid when it's a gazillion degrees outside. I also really like my hair pixie-short. I do NOT like my hair anywhere in-between, and therein lies my current dilemma. I'd happily keep it short but it grows fast and ends up being expensive to keep it cut often enough. But growing it out would require a whole LOT of hating it in the meantime. Hmm…
3) Ken and Lindsey got back safe and sound from the Dominican Republic late Saturday night. Their groups did construction, painting, evangelism, visited orphanages, sports ministry, and more. I know Ken will be posting more of his photos on his blog, but I'm sharing a few:
4) I have a new iPad! Actually, not the new iPad, but an iPad 2. It is my early Mother's Day/Birthday gift since Ken was able to get a good deal because the arrival of the new ones means most places want to get rid of the "old" ones. Woohoo! Now I'm figuring out how best to use it, and I am selfishly keeping it for mine, mine, mine! Kathryn has all but taken over my kindle, which is fine, as I'll probably just call it the school kindle. Everybody uses the Big Mac (our desktop iMac). The girls sometimes use my phone to play games. There will be no games on this thing! But if you have a useful app to suggest, please tell me!
5) Prayers, please? Just today, I learned of a boy (friend of a friend) who overcame a brain tumor but now has a long-term side effect that makes him constantly hungry. He knows logically that he isn't hungry but he craves food like a drug, and this causes such a problem for people with this rare type of tumor that he will never be able to live alone. Patients have even eaten drywall to satisfy this urge. This must be really hard, on him and his family.
6) My plants make me happy. I feel close to God in the garden, like I get to sort of help Him a little bit in His creation. I don't really, but He lets me feel like it. Kind of like a little child "helping" Mama bake a cake. (The lilac in the foreground under the dogwood tree smells a bit like heaven, too.)
7) I'm so random today that I've decided to link up to miscellany monday — on a Tuesday.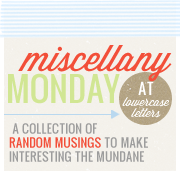 Wife, mom, grandma. Introvert who finds joy in good books, sunshine, and authentic conversation. Fitness enthusiast and personal trainer. Often seen with a steaming mug of tea in hand.