OK, friends — I need HELP!  I am bound and determined to:
A) get better at meal-planning, and B) cut our monthly grocery expenses!
So, here's what I need from you:
What's your favorite go-to meal? I'm looking for family-friendly lunches and suppers. Healthy is a BIG plus.
Do you have a favorite blog for easy, healthy meal ideas?
I hate the idea of the whole couponing thing because I don't want 382 bottles of shampoo for 43 cents! Most of those blogs completely overwhelm me. I just want to reduce my grocery bill! How do I start?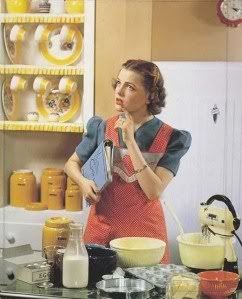 Please, leave me some suggestions or helpful links in my comment section — and feel free to promote your own blog or blog post if it applies! I'm sure others will benefit from them as well!
(PS – isn't the retro apron in that clip art adorable!?!)
Wife, mom, grandma. Introvert who finds joy in good books, sunshine, and authentic conversation. Fitness enthusiast and personal trainer. Often seen with a steaming mug of tea in hand.