Miscellany Monday
I've seen miscellany monday on finding joy, but never participated. Since today is a Monday and it feels a bit miscellaneous, I'm joining in… (and I love the little typewriter on the button!)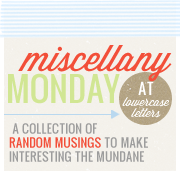 1 – Last Sunday, my husband and I enjoyed a fancy schmancy brunch date. Every bit of food we ate was scrumptious. We had a lovely view of downtown Atlanta from our table for two by the window. I think this was the first Sunday morning date we've had; we went to church to serve as leaders in our middle school small groups, then left straight from there to head to our brunch. A friend gave Lindsey a ride home, and Kathryn was with her dad. So Ken and I just chatted and enjoyed each other's company. Even more delightful: this brunch was complimentary, a gift from the fabulous coordinator at The Georgian Club as a thank-you for some photography work we've done there.
2 – This is our catch-up week in our homeschool. That means we'll do some very light schoolwork, try to catch up on the lapbook projects we're behind on, and try to catch up on the King Arthur readings I've let slide. And I hope we'll find some randomly fun things to do, too.
3 – I've been having a blast photographing newborn babies. I'd love to have one of my own again, but borrowing other folks' babies for an hour or two is quite fun for now! I'm not sure that newborn photography is something that every photographer would enjoy: it requires being hot (so baby is warm), getting peed on occasionally, plus a whole lot of patience and persistence. But I love it!
4 – I am a Halloween scrooge. I even thought about handing out cans of sardines to the neighborhood trick-or-treaters. (We have oodles, since my dad gave us what was left of a case of them!)
5 – Last week we started a two-hour window of no-phone/no-computer each evening. I thought Lindsey might act as if her arm had been cut off, but it's going better than I anticipated. We use that time to play games or watch a movie, or do something together as a family with no distractions. I'll write more on this after we've done it a few more weeks.
6 –
Also last week, I started back to Jazzercise — the only workout program I have ever actually liked. I had a bit of a hard time telling myself it's okay to spend that money when walking is free, but I'm not actually walking, and it's sure not doing me any good to do NOTHING. So I'll scrimp moneywise somewhere else if it means I can continue doing Jazzercise. I'll write more about this later, too.
Well, that was a fun post! Sometimes you just need a dose of randomness. 😉
Wife, mom, J-ma. Introvert who enjoys good books, sunshine, and authentic conversation. Often seen with a steaming mug of tea in hand – unless it's lost yet again in the microwave. Read more »