Once again… counting gifts.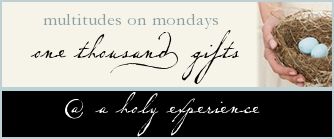 1157 – The smell of pumpkin muffins in the oven.
1158 – How much Kathryn enjoys creative pursuits – like loom-knitting hats!
1159 – Getting classes Kathryn is excited about for next semester's enrichment classes.
1160 – Chatting and catching up with my cousin Jonnia while waiting at the long registration for classes.
1161 – Being nearly done with Christmas shopping – and staying within our budget.
1162 – Not-too-difficult crossword puzzles.
1163 – Selling my treadmill, and getting to catch up with an old friend in the process.
1164 – An ice pack when I hurt a muscle in my back.
1165 – An early Christmas present from my mom, something I've wanted for probably a decade: a KitchenAid stand mixer — and in my super-favorite color!
1166 – A safe trip for Lindsey and the rest of the NROTC drill team for last weekend's competition.
1167 – Knowing I can be completely honest with my husband, and he'll still love me.
Wife, mom, grandma. Introvert who finds joy in good books, sunshine, and authentic conversation. Fitness enthusiast and personal trainer. Often seen with a steaming mug of tea in hand.