(MadLibbing; paper doll version of me; Wii dancing)
1201 – A new friendship.
1202 – Nights I don't have to cook — or plan the meal!
1203 – Getting to know Lindsey's boyfriend better.
1204 – A delightful new oolong tea I've been drinking.
1205 – When Kathryn asks me to read to her.
1206 – Learning to dream big.
1207 – Recent boudoir sessions with women who want to bless their husband's socks off.
1208 – Continuing my battle with clutter.
1209 – Repurposing items I already have.
1210 – A friend to brainstorm with.
1211 – MadLibs.
1212 – Old-fashioned fun with paper dolls.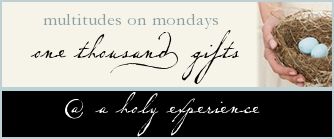 Are you counting your multitudes yet?
Wife, mom, grandma. Introvert who finds joy in good books, sunshine, and authentic conversation. Fitness enthusiast and personal trainer. Often seen with a steaming mug of tea in hand.