Multitudes in the New Year { 1182 – 1200 }
"The game was just to find something to be glad about, no matter what 'twas… you see, when you're hunting for the good things, you sort of forget the other kind." Pollyanna
1182 – Christmas cards in the mail.
1183 – Pinterest. I can't believe I haven't listed that one before! It's so fun!
1184 – Sponsoring another Compassion child: Josphat in Kenya.
1185 – Warm brownies fresh out of the oven from our sweet neighbor – and for her thoughtfulness.
1186 – A beautiful pen-and-ink rendering of our home from my talented mom. (Yes, you can hire her to do your home!)
1187 – A good home to Flipper, the big toy horse. (Kathryn had a hard time parting with her until we found just the right home.)
1188 – Christmas-time with Brandon and Diane, and my mom-in-law Joyce last week.
1189 – Easier way to enjoy praise music on my new speaker for my iPhone.
1190 – Serious progress in starting this year's de-clutter/organize adventure.
1191 – A newly organized closet, thanks to my handy hubby who installed new shelving.
1192 – A new bird feeder and happy birds.
1193 – Sleeping late, and alarm-clock free days.
1194 – A week off work for Ken, and more time spent together.
1195 – Bird songs on rainy mornings.
1196 – Setting up a new home office for Ken.
1197 – Creating my new photography site, and revamping our main site, Worley Arts Photography.
1198 – Photographing the Hodgepodge family! (That's me with Tricia, aka HodgepodgeMom).
1199 – Kathryn back home after a holiday week at her dad's.
1200 – The fresh start of a fresh new year.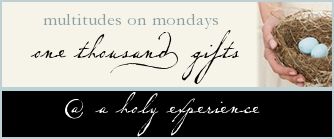 Wife, mom, J-ma. Introvert who enjoys good books, sunshine, and authentic conversation. Often seen with a steaming mug of tea in hand – unless it's lost yet again in the microwave. Read more »