Ocean learning gift basket
It's that time of year when many families are starting (or have already started) a new school year. That calls for something fun — like a giveaway! I've chosen some of our favorite ocean-themed learning resources to share with you, and one winner will receive the entire contents of this gift basket shipped to you from right here on the North Carolina coast. I even promise to pack in a seashell or two from our beach.
Ocean learning gift basket: a giveaway!
This basket full of oceanic happiness has a total value of over $80!
Here's what's included:
Eyewitness OCEAN book
DK books have some of the most fabulous photos, and because of that, they span a wide variety of ages. Even before my youngest could read, he loved looking at the pictures and asking questions. The Eyewitness OCEAN book is one of our favorites.
101 Questions About the Seashore book
All those questions your kids have about things at the beach? This little book will answer them at least 101 of them! 101 Questions About the Seashore.
The Little Island by Margaret Wise Brown
Do you love Goodnight Moon? The Little Island is a sweet book is by the same author and has beautiful illustrations. We've used it as a read-aloud but it's one that I personally enjoy because it stands the test of time and doesn't feel childish.
Sea turtle puzzle
Y'all know we love sea turtles here, and do our part in helping them by volunteering with the conservation program as nest parents. Even if you're too far away to assist, you can still appreciate them from afar in the this pretty Ravensburger Ocean Turtles 200-piece jigsaw puzzle.
Seashell coloring book + colored pencils
If you keep this Seashell Patterns coloring book for yourself, I won't tell. There's no reason the kids should have all the fun, and many people say these books help them relax and de-stress. If you do decide to share, this coloring book is geared towards older kids with it's somewhat intricate designs. Still lovely but a little less intricate: the Big Book of Sea Life to Color. I'm including a set of colored pencils, too!
And . . .
Seashore Chalk Pastel Video Art Course: a $40 value!!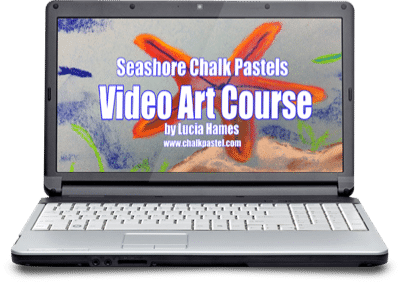 Big thanks to my friend Tricia for agreeing to give my winner access to the fantastic
seaside-themed video art course
! If you're unfamiliar with these tutorials, visit that link to learn more and even watch a free tutorial. Included with the 9 tutorials in video course is an
Art at the Beach ebook
with 11 more seaside art tutorials! These are for ALL AGES.
---
You've seen the goodies; now enter to win by using the Giveaway Tool below! Contest ends Saturday, August 12st at 10:00PM Eastern Time. If you're reading via email or a feed reader, click over to the blog to use the widget.
Enter to win basket-loads of goodies from more of the iHomeschool Network bloggers; click the image below to see them all:
Wife, mom, J-ma. Introvert who enjoys good books, sunshine, and authentic conversation. Often seen with a steaming mug of tea in hand – unless it's lost yet again in the microwave. Read more »