Practicing Gratitude {1019 – 1028}
Still counting beyond one-thousand gifts…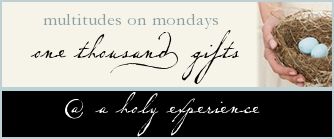 Receiving info about and photos of our Compassion child Lucy in Kenya.
Living books — and how much I learn as I homeschool my kids!
A trip to the zoo!
I've seen elephants, giraffes, lions, zebras, and baboons in the wild.
Sisterly moments, cinnamon rolls for breakfast, a cute dog (who begs politely), and a newly rearranged living room.

Another year of wedded bliss and sweet words from my husband.
God always gives us a way out of temptation.
"…God is faithful and He will not allow you to be tempted [or tried] beyond what you are able [to endure], but with the temptation He will also provide a way of escape…" 1 Corinthians 10:13
Homeschool moms further down the road who are willing to share their wisdom.
Spontaneous dinner invitation from good friends.
Being safe and cozy inside on a stormy night.
Wife, mom, J-ma. Introvert who enjoys good books, sunshine, and authentic conversation. Often seen with a steaming mug of tea in hand – unless it's lost yet again in the microwave. Read more »