Practicing Gratitude {1081 – 1092}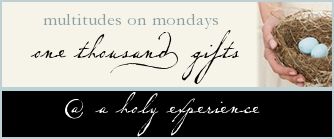 I'm continuing to count beyond one-thousand gifts…
A new photo of me and Ken (thanks to Lindsey); one or the other of us — or both — are usually behind the camera, so photos of the two of us together are few and far between.

Spring showers — when NOT accompanied by tornadoes.
The scary, dangerous storms skirted around us.
Unexpected times of prayer, like when I was up with a sick child, and the night the storms passed through.
A new sewing table (which I'm still working on getting organized)!

I live in a safe and [usually] quiet neighborhood.
Delightfully practical wisdom in one of the books I'm currently reading: Large Family Logistics. It's not just for large families!
We sold and donated more stuff via Saturday's yard sale and subsequent trip to Goodwill; this means continuing to simplify AND we raised $100 for the children at the Guma Na Yesu orphanage in Kenya.
Time to hang out with my mom during the yard sale.
Dinner at Moe's with just me and Lindsey.
Ken had an opportunity to meet with a group of adoptive dads.
Date night with Ken included a husband-suggested trip to Joann Fabric store. (Love that man!)
Wife, mom, J-ma. Introvert who enjoys good books, sunshine, and authentic conversation. Often seen with a steaming mug of tea in hand – unless it's lost yet again in the microwave. Read more »