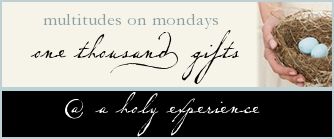 Another good, fun visit from my Dad.
Watching the miracle of caterpillars-to-butterflies.
A robin nest on our back porch, and a peek at her pretty eggs.
A veggie garden, with a few varieties of heirloom tomatoes I've never tried.
Baking with my ten-year-old, using a recipe a few generations old.
Watching my daughters working together, both eager to plant me a tree for mother's day.


Having a mom to celebrate, and celebrating being a mom.
Sweet text from a friend celebrating her first mother's day, who told me I'm a great influence on her as a mom — an inspiring yet humbling thought!
Wife, mom, grandma. Introvert who finds joy in good books, sunshine, and authentic conversation. Fitness enthusiast and personal trainer. Often seen with a steaming mug of tea in hand.