Practicing Gratitude {1101 – 1112}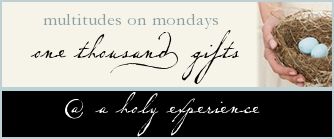 More blessings to count…
1101  – Coffee last week with my friend Tina; we've been friends for at least three years, and this is the first time we've ever made it out of the house just the two of us for coffee!
1102 – Releasing our butterflies.
1103 – A rain barrel for watering my plants and trees.
1104 – Working in my garden, and having a garden to work in.
(a hot pink peony in my flower garden)

1105 – Getting out and exercising on the days I have a really hard time getting motivated.
1106 – Online friends for exercise accountability.
1107 – Keeping up on my goal to read the Bible in 90 days.
1108 – Kathryn's most recent blog post didn't get erased in the weird disappearing posts issue on blogger last week.
1109 – A husband willing to do things others may think "crazy" if they're consistent with God's word.
1110 – Hanging out with my sister and both nieces for a casual celebration of my dad's upcoming 70th birthday.
1111 – So much family that lives so nearby.
1112 – Someone in Cairo, Egypt made my grandmother's pound cake recipe; I think that's sooo cool!
Wife, mom, J-ma. Introvert who enjoys good books, sunshine, and authentic conversation. Often seen with a steaming mug of tea in hand – unless it's lost yet again in the microwave. Read more »