Practicing Gratitude: Gifts 976 – 1000
I can't even explain how good this practice of gratitude has been for me.
Whether you share them on your blog, or write them in a private journal, I promise your faith will grow through this exercise. And — yes! I plan to continue this practice — though I won't push myself to list any specific number per week now that I've completed my original challenge.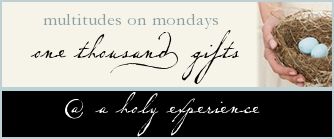 976) When Lindsey says, "We (fill in the blank) a lot in our family!" — because that means she finally feels like we are her family!
977) cherry tree blossoms
978) my baby maple tree is still alive
979) Lindsey has her first job
980) friends I can talk to about difficult situations
981) field trips
982) friends and husband accompanying us = even better field trips
983) doing new things/going new places with Lindsey
984) the wonders of God's creation (like Beluga whales!)
985) watching Beluga whales swim and play
986) doing little things that have been on my to-do list for far too long
987) moments of skipping and silliness
988) painted toenails
989) Kathryn meeting missionaries at GA's mission night
990) the freedom of no longer having a personal facebook page
991) Lindsey saying she knows God wants her to learn to talk to me about everything, even though it's hard to learn how
992) reducing our grocery expenses even with relatively minor changes (so far!)
993) doing a blog talk radio interview this week
994) very, very specific answers to prayer
995) hearing David Platt speak at our church (for mission's week)
996) testimonies from so many missionaries about God at work all over the world
997) relaxed time to daydream and plan with my husband
998) message brought to us in Sunday school class by a missionary
999) the ways God makes very sure I'm listening
and…
1000) literally listing one-thousand gifts/blessing from God, the giver of all things.
Wife, mom, J-ma. Introvert who enjoys good books, sunshine, and authentic conversation. Often seen with a steaming mug of tea in hand – unless it's lost yet again in the microwave. Read more »