Spring Break To-Do List
Next week we're taking a spring break from homeschooling. In fact, next week there is absolutely nothing I am required to do. So I'm making myself a big fat to-do list. And I'm excited about it. (Making lists: it's a sickness. Just like my addiction to books. And tea. And cute notebooks…)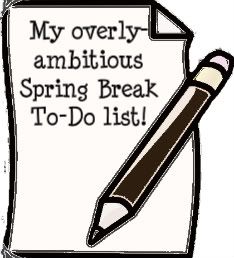 Next week I'm planning to:
Do oodles of reading!
Weed and prune my front flower bed.
Sand and refinish an antique desk for Kathryn's room.
Write a few blog posts I haven't had proper time to write.
Order butterfly larvae for nature study.
Plan the remaining eight weeks of our school year.
Repair a few holes in the quilt on the master bed, and wash it.
Wash the leaves on my indoor houseplants, and re-pot if necessary.
Clean, clean, clean! Anything that doesn't move is going to get cleaned. (And maybe a few things that do — like the dog!)
Organize, organize, organize! My mission: de-clutter and simplify!
Donate stuff!
I have warned the family that once I am on a roll, anything is fair game. If it's not organized or cleaned up to my standards, then I'll do it myself. They're kinda scared about that, so I anticipate them doing a bit of cleaning/organizing of their own this week! {Insert evil-sounding laugh here.}
Wife, mom, J-ma. Introvert who enjoys good books, sunshine, and authentic conversation. Often seen with a steaming mug of tea in hand – unless it's lost yet again in the microwave. Read more »