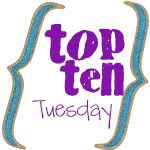 I'm not blogging much on this Thanksgiving holiday week, but Oh Amanda's "Top Ten Tuesday" sounded like a fun little idea for a post. (Psst! This is my first time joining in her top ten fun!)
I'm sharing the top ten ways my husband blesses me (in no particular order):
He listens to me.
He has learned not to immediately try to "fix" whatever I'm talking to him about.
He makes me laugh. Often. Every day. (Exhibit A.)
He supports and encourages me in just about everything I want or try to do.
He still has the power to make we weak in the knees with his kisses.
He kills the big icky bugs. (As long as he's home, that is.)
He thinks I'm "hot." 😉
He is a wonderful father, devoted to our children, whether they are biologically related to him or not.
Thanks to his photography, I always have a good profile picture.
He really is my best friend.
Have a happy, happy Thanksgiving, y'all!
Wife, mom, grandma. Introvert who finds joy in good books, sunshine, and authentic conversation. Fitness enthusiast and personal trainer. Often seen with a steaming mug of tea in hand.