I was going to post yesterday, but I was busy filming a television interview. I had to type that sentence because it sounds vastly impressive and important, and that makes me laugh at myself. Besides, with as much as I'm sure I babbled, it could very well be the very last time I get to type a sentence like that! 😉
Several of this week's "thankfuls," as I call them, revolve around my daughters. I am blessed to have them both, and when I see signs of progress in their relationship as sisters, or in the rest of our inter-family relationships in this blended family of ours, it does my heart so much good. We walk a difficult road sometimes in parenting, so remembering these things is vastly important.
1256 – My daughters have developed a "secret" handshake.
(It involves fins and noggins.)
1257 – Far less walking on eggshells since Lindsey and I had our talk.
1258 – Our daughters' enthusiasm about adoption. When we talk about adopting again, they both seem genuinely excited, and I won't be surprised if they both adopt when they are grown with families of their own.
1259 – My daughters are beautiful — and not just on the outside!
1260 – Doing yesterday's television interview to advocate adoption as a good thing, and share how important permanency is in a child's life.
1261 – God allows us to be part of what He's doing — because He could accomplish His work without our "help."
1262 – I exceeded my blog income goal for 2011. I don't blog to make money, but it's nice to make enough to pay for expenses and such!
1263 – Safety in the storms that passed through last week. One tornado touched down between our house and our church. Scary, but no one was seriously injured, which is a huge praise.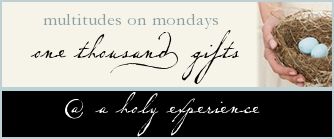 Blessings to you this week! And as soon as I find out details of when the interview will air, I will let you know!
Wife, mom, grandma. Introvert who finds joy in good books, sunshine, and authentic conversation. Fitness enthusiast and personal trainer. Often seen with a steaming mug of tea in hand.