Learning what mothering really is
For almost three years now, I've mothered Lindsey. I've cooked meals + washed clothes + set up dentist appointments + driven her to activities + made her clean her room + took care of her when she was sick. Lindsey knew she missed out in her early years on some of what a mother does, but it never occurred to her that "mothering" means those things, but far more.
She and Ken quickly developed a good father-daughter relationship, and that has grown and deepened. She doesn't always like all his fathering (and protecting), but she loves her Daddy. She and I, on the other hand, easily anger each other, and some days just being in the same house is hard.
Over these three years, though, there have been a few times when she has come to me to talk, to hug, to cry. We've had some meaningful talks. On those rare times, it feels like a mother-daughter relationship should. Those times feel good — but still so rare.
And I wonder if my influence matters at all; I wonder if she'll ever understand what mothering really is.
Saturday morning, just before a JROTC performance at the local Air Force base for Academy Day, Lindsey woke up surrounded by EMTs after passing out and hitting her head on the concrete floor, and immediately cried, "I want my Mama!!!" She kept on, and told them my name, and I had no idea why the speaker at this event was calling my name in front of these hundreds of people and cadets and military men and senators, but I stood and went up front and they took me to her. I helped calm her down, I answered medics' questions, and I rode in the ambulance with her (as Ken followed behind in the car).
Several hours and several tests later, she was sent home from the hospital with a big bump on her noggin (and an even bigger headache), and she is fine.
At some point in the midst of all the chaos that has given me more gray hair, it occurred to me that it was me she asked for. Not Ken. Not anyone else. She asked for her mama, and she meant me.
So I think, maybe we really are making progress.
Maybe she's learning what a mother really is.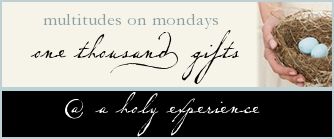 1264 – dinner with all 3 kids, plus our soon-to-be daughter (in law)
1265 – helping stamp and seal Brandon and Diane's wedding invitations
1266 – serving again at the soup kitchen
1276 – watching hummingbirds while I sit on the back porch
1277 – Ken rescued a nuthatch from inside the bird feeder
1278 – both girls are excited about signing up for fall homeschool enrichment classes (even Lindsey!)
1279 – my Fun Mama post was featured on BlogHer
1280 – finishing our homeschool year
1281 – a new (used) car
1282 – Lindsey is okay
1283 – she asked for me
1284 – I don't freak out in a crisis
1285 – my own mom, and the example she set for me in what mothering means
Thank you to all my mom-friends — and my own mom — who inspire me.
Wife, mom, J-ma. Introvert who enjoys good books, sunshine, and authentic conversation. Often seen with a steaming mug of tea in hand – unless it's lost yet again in the microwave. Read more »