Multitudes (with a dose of bad fashion)
"I am thankful for laughter, except when milk comes out of my nose." Woody Allen
1213 – Kathryn really enjoys her homeschool enrichment classes.
1214 – Finally getting a much-overdue eye exam, and already having improvement in a weird eyelid rash I've had for months!
1215 – Exciting news that my youngest niece is expecting!
1216 – Being listed on a "Top 100 Homeschool Blogs" list.
1217 – We are now re-certified for CPR/first aid, and completed five of the required yearly training hours to maintain our status as approved for foster/adoption.
1218 – Letting my artsy side out a little by doing an art project with my daughter, instead of just observing and instructing. (Our chickadee pastel project.)
1219 – Fun — and funny — memories from old photos my mom dug up.
1220 – I now have better fashion sense than I did in high school.
1221 –  More boudoir sessions last week with beautiful (inside and out) Christian wives.
1222 – Families who are committed to raising their children to know and love the Lord. (Baby dedication at church this week!)
1223 – Ken and Lindsey began training to go on the high school mission trip to the Dominican Republic in April. (This will be the second year, and Ken will again be a group leader.)
1224 – Financial blessing that allowed us to pay for mission trip deposits, eye exams and glasses for both me and Lindsey, and the CPR class.
1225 – Spending an afternoon re-living memories with my mom, my aunt, and a cousin while cleaning things out at my grandmother's house.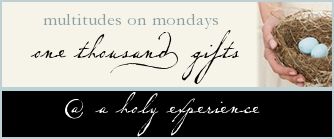 Consider counting your gifts, if you haven't starting doing so already!
Wife, mom, J-ma. Introvert who enjoys good books, sunshine, and authentic conversation. Often seen with a steaming mug of tea in hand – unless it's lost yet again in the microwave. Read more »